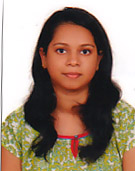 Leena Raphael, Ph.D

Done Ph.D on the topic titled "Temporal changes in species diversity in landings and emerging concerns in ring seine sector of Kerala" from Cochin University of Science and Technology (CUSAT), Kochi, Kerala.
Worked as Senior Research Fellow as well as Project Assistant in the project "Green fishing systems for tropical seas" funded by NASF (National Agricultural Science Fund) at ICAR- Central Institute of Fisheries Technology (ICAR-CIFT).
Attended regular experimental trips onboard Departmental Fishing Vessels MFV Sagar Shakthi and MFV Matsyakumari for operating semi pelagic trawls and bottom trawls.